Auto Pilot Swine Fill Supplement
Auto Pilot Product Information
Auto Pilot is a show pig supplement formulated to enhance your pig's rib and center body dimension and help manage its weight for targeted shows. This highly palatable product includes natural fiber sources and is one of the most unique products available for show pig enthusiasts today. Auto Pilot is nutritionally formulated to maximize your pig's show ring look and aid in digestive tract health.
Auto Pilot Product Advantages
This product aids in sculpting and defining the neck and jowl area on the finished show pig, and enhances rib shape and center body dimension.
Made from highly palatable all-natural forage, oats, rolled barley, and soy hulls, Auto Pilot can improve your animal's disposition in times of limited feed intake and aid in weight management.
Particularly in lactating sows, Auto Pilot can aid in digestive tract health.
Added essential oils can help lower your pig's body temperature during times of heat stress.
Auto Pilot assists in achieving desired fill on show day.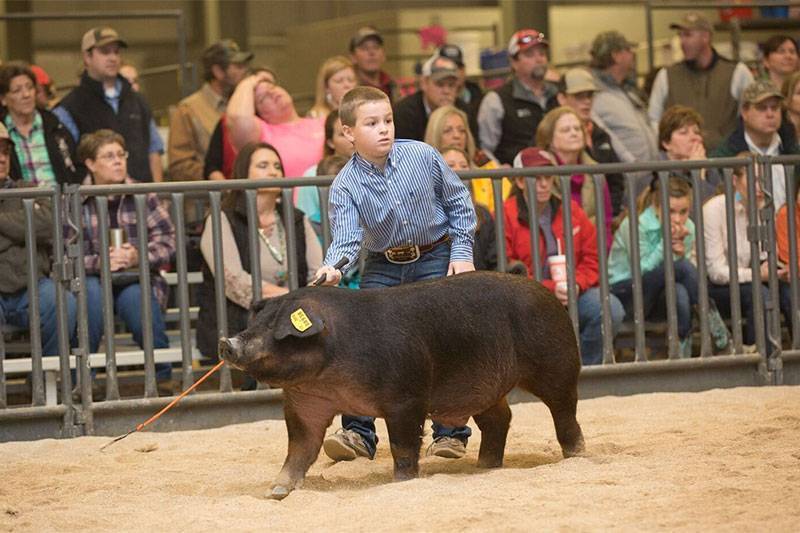 "This Duroc barrow was on Auto Pilot for 2 months and held together great. I fed him about 6 pounds a day. Rotating in 685 for a few days every other week or so to keep him fresh. He gained about 1.5 pounds per day and never skipped a beat."
Carole Usener, TX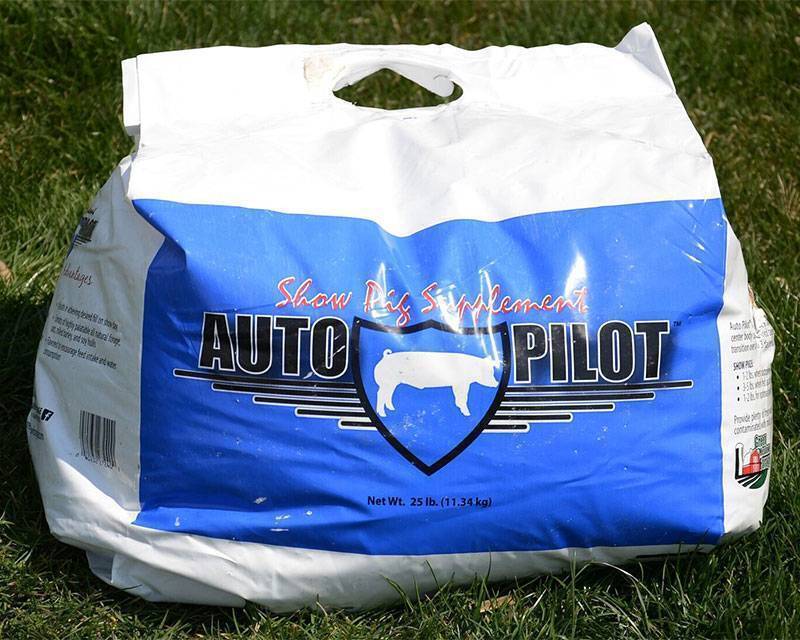 Net Weight 25 lbs. packaging
FEEDING RECOMMENDATIONS
Auto Pilot should be fed anytime you would use rolled oats for improved nutritional support.
AUTO PILOT FOR IMPROVED GUT HEALTH
Use Auto Pilot in place of rolled oats and feed your pig one pound cup per day. To enhance center body fill, use two pound cups per day.
AUTO PILOT FOR HOLDING
For one to one and a quarter pound of day gain, feed two pound cups of Auto Pilot and one and half pound cups of feed. Auto Pilot may be fed as a sole ration for a one pound or less of day gain.
AUTO PILOT FOR SCULPTING THE NECK-JOWL
Replace half of your pig's total ration with Auto Pilot until the desired appearance is achieved.
AUTO PILOT FOR LACTATING SOWS
Feed 1-2 pounds daily two weeks prior and two weeks after farrowing to prevent constipation and increase appetite. If wet feeding is desired, water may be added immediately prior to each feeding.
Auto Pilot Guaranteed Analysis
Crude Protein (min.)

15.0%




Lysine (min.)

1.5%




Crude Fat (min.)

6.0%




Crude Fiber (max.)

22.0%




Calcium (Ca)(min.)

0.65%




Calcium (Ca)(max.)

1.30%




Phosphorus (P)(min.)

0.7%




Salt (NaCl)(min.)

0.20%




Salt (NaCl)(max.)

0.80%




Selenium (Se)(min.)

0.30ppm




Zinc (Zn) (min.)

150.00 ppm



Find a Dealer Near You